Blogging with Tee
Explore a featured selection of my writing journey.
TCP ServiceNow Cohort Journey
08/21/23- Hello everyone, I'm excited to share that I've just kicked off my journey with the Techbridge Program's ServiceNow ITSM Fall Cohort today. Over the next 13 weeks, I'll be immersing myself in this experience, and I can't wait to provide you with regular updates as I hone and demonstrate my ServiceNow skills. Stay tuned! #Techbridge #Servicenow #ITSM #LearningJourney
08/23/22- Hello everyone, I had the opportunity to create a presentation using workflow diagram symbols describing a workflow and how technology and automation can improve my workflow.
 How automation and technology can improve the workflow:
Asking pre-screening questions with automated ranking (i.e. do you live in Atlanta?)
Pulling your resume using technology to flag words from the job description
Sourcing CVs and being able to build a shortlist faster
One-way video interviews so recruiters only have to write questions once.
Ranking candidates based on their experience, skills, and location to streamline the hiring process
Remove some sources of bias from the hiring process, which has been shown to improve diversity in hiring.

Technology and automation enhance workflow by reducing manual tasks, boosting efficiency, enabling better communication, providing data-driven insights, ensuring accuracy, facilitating scalability, and promoting innovation.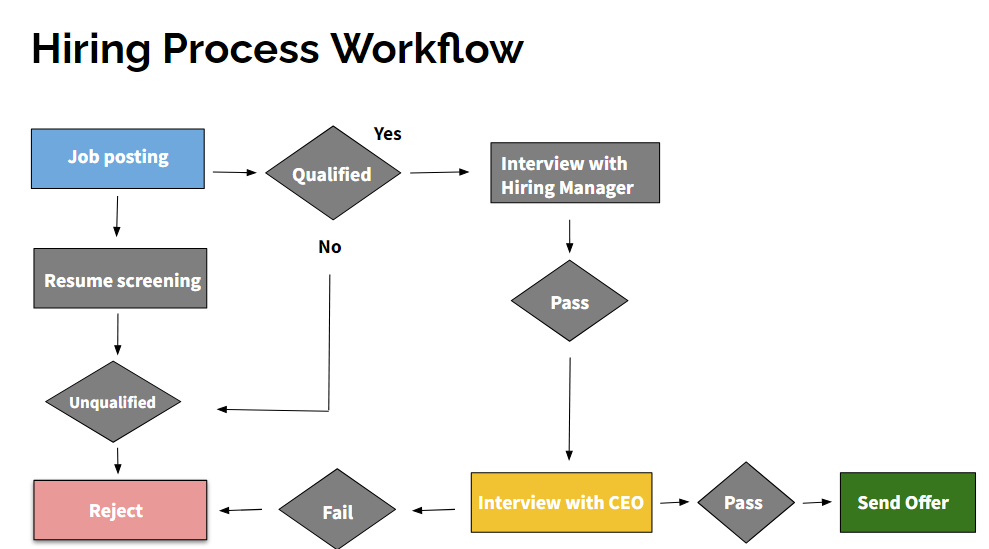 08/29/23 Incident Management Application
Today I impersonated a user to help create an incident using classic lists and forms. 
-I clicked the User menu and ensured I logged in as the System Administrator. I impersonated April's instance, I automatically landed on her Workspace landing space, I navigated to the All Menu, on the filter navigator, I typed Incident from there selected Incident >Create New. I received a call from Dennis regarding an issue with his Conference Mobile App for Staff.  I completed the the form for Fred, stating what the issue was in the short description area, and his description for the message, I also noted how this was being completed in the channel field: Phone, the type it it was in reference for in the Service area, the service offering, configuration item because this issue is urgent, I marked it as High 1 in Urgency, Impact 1 high as well. After I saved the incident, I verified it auto-populated in the Assignment group area with Conference Event App Support. I noted the work notes and the additional comments as well and I made sure to click update.  I clicked the History menu to locate and open the Incident report, making sure the notes tab showed the activity with comments. I navigated back to All> Incident> Open and searched for the incident number, and found it was there in the feed. Navigated to All> Service Desk and located and hovered over to My group Work module and made sure I marked this as a favorite for easy accessibility. 
I navigated to her workspace, to locate the incident that Dennis called in for, this is a special handling incident because of the priority. I assigned the case to me (April) and I attached an article that could possibly help Dennis and let him know, that if this article wasn't helpful we could try a second step.  I navigated to the Resolution section and added the relevant code (Workaround provided), and a resolution note, and clicked Resolve to save. From there I ended April's impersonation. 
What I learned from this was how to process Incidents, Changes, Problems, and Request. and how to improve a workflow. Also, the Employee Center Portal is a one-stop shop for internal employee needs.